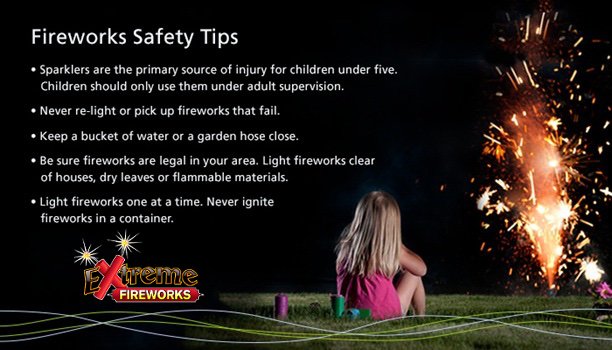 HAVE FUN AND BE SAFE
Safety is of paramount importance to EXTREME Fireworks and all our product has detailed instructions on the package. If for any reason you are unsure about how to use a product call us anytime for help.
REMEMBER TO
Keep fireworks in a closed box.
Follow the instructions on each firework.
Light fireworks at arm's length using a taper.
Stand back.
Never go back to a lit firework.
Never put fireworks in your pocket.
Never throw fireworks.
Light sparklers one at a time and wear gloves.
Never give sparklers to a child under five.
Keep pets indoors.
Ensure trees, rooflines, and powerlines are clear from flying items.
Fireworks are available all year round and are used for weddings, anniversaries, parties as well as the traditional bonfire night and New Year's Eve.
PLEASE RESPECT OTHERS
Notify people in plenty of time that you are having a firework party - they may need to move animals.
Kick off your display so that it finishes before 11pm - after this time is very unsociable and can cause unnecessary discomfort.
Think carefully and planning your display with others in mind will ensure not only you, but everyone else will enjoy your display, and you won't spoil your evening by having floods of complaints the following day.